i didnt save many hands to talk about this week... i did, like a dumbass, blow a lot of money in cash games...
my rake back provider told me i can play at interpoker in the US as long as i have a foriegn address on account, which was true (i felt misled into entering a fake address), but when i went to withdraw, they stole all my money... which sucks, because cash games were easy there, and sngs were super soft... never anywhere else did i feel like the best guy at the table in a cash game.... i mean it was as bad as live cash games. i have been emailing them, and i gave them copies of the email i got from my rakeback guy, and i hope to get this straightened out. i only deposited $150 there so not the end of the world, but i ran it up to $900. it just doesnt seem fair that im allowed to play and deposit just fine, and i bet if i went bust and went to make another deposit, they wouldnt care, but as soon as i withdraw, now they enforce the rules..... seems fucked up to me. especially since they just take my money. oh well fuck it, i knew i was risking that by opening the account.
i went bust on doyles room.... $500 didnt last long. the players seem bad, but i was getting a lot of bad beats. like one hand i flopped a FH with JJ on a J66 board, got it all in, dude had KK... turn was a 6, river was a 6. lol... anyways, i am confident i can make money there, but the regular sngs are a little slow for me, and i start getting bored. and the speeds are to quick. the speeds are very fast.... but i have been doing better in those. think i will play 15 more of each before i decide though. i have a $550 deposit bonus to clear there too.... and i get rakeback as well.... the software blows badly and the tables fill very slowly... not sure if i will still play there after my bonus is cleared..... i will decide on that later...
here is the hand i saved:
Full Tilt Poker
No Limit Holdem Tournament
Blinds: t150/t300
4 players
Converter
Stack sizes:
UTG: t1930
Button: t2920
Hero: t5360
BB: t3290
Pre-flop:
(
4 players
) Hero is SB with
4♥
A♦
UTG folds,
Button raises to t1050
,
Hero raises all-in t5360
,
2 folds
.
Uncalled bets: t4310 returned to Hero.
Results:
Final pot: t2400
this guy was raising alot and we were letting him get away with it, he had no clue how i was about to play, because i just got my chips. he just doubled me up like a hand or 2 before. he wont call unless he has a very good hand.
here is the hand plugged into sng wizard and you can see the ranges i gave the players.... which i believe should be close to accurate.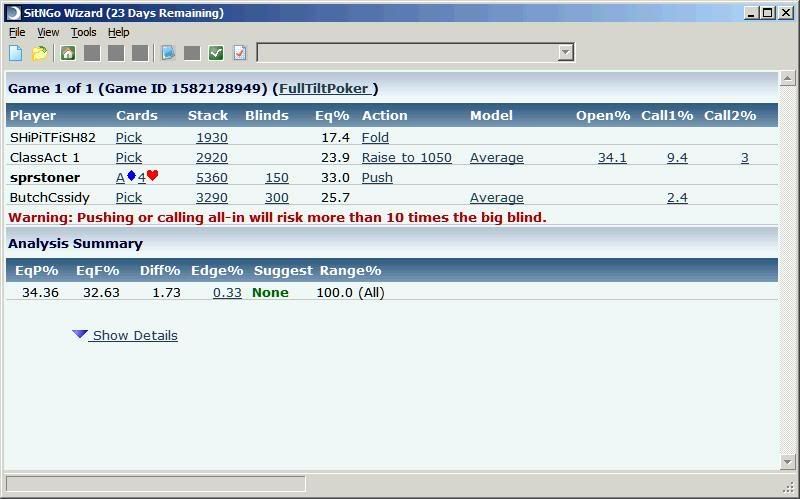 and as for my results:
here is a chart of my sngs so far this year... and realize this is not like sharkscope where it calculates average roi, this is actual roi.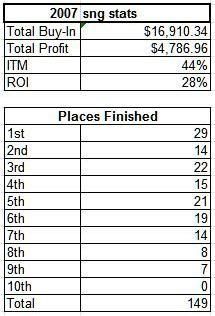 i obv have WAY to many 3rd places... most came from today, i had a large number of 3rds and 4ths today.... i was down most of the day and by end of day after 28 sngs i was up $31... lol
=====
2nd week:
live cash games: 0
online cash games: (-$448.58)
live sngs: 0
online sngs: +$3,457
live MTTs: 0
online MTTs: (-$431)
-----------------
week total +$2,577.42
====================
so for my results....
MTD and YTD:
live cash games: +$678
online cash games: (-$448.58)
live sngs: (-$120)
online sngs: +$4,787
live MTTs: 0
online MTTs: (-$594)
--------------
total: +$4,302.42
====================
for now on, i am only updating MTD and YTD at the completion of months, but i will do my best to update my weeks weekly.