well.. today i lost money.. but not much, just a few hundered... i did shitty in the million, and FTP 400k... in sngs i cashed about 30% but was up a little due to more than the normal amount of 1st places.
a friend from +1 told me about a program called sng wizard, and it is awesome.. i was reviewing my last sng just now and found a hand i swore was a bubble push and i guess it isnt.... i think i will very likely get stuck pushing with 3 BBs if i dont push here... is it ever worth taking a negative edge? if you are very likely gonna play in a worse spot? or will the worse spot usually not be so bad since you wont be so far bahind hands that call you?
thoughts on this hand? i believe the ranges i plugged in were accurate for the players involved and the bubble.... but the BB, if i lower his calling range from 25% to 20% it makes this a push.... but i think 25% is a good range for him here...
20% = 33+,A4o+,A2s+,KQo+,KTs+
25% = 22+,A2+,KTo+,K9s+,QTs+
i gave ymk106 a 2.8% range because he wants me to bust which is : QQ+,AK+
i gave the BB a range of 5.7% if ymk106 pushed which is : 99+,AQo+,AJs+
these hand ranges are a little different than sngpts, which is random rank... here is what chipp from +1 says about that :
"My main prob w/ it [sng wizard] is it uses a fixed hand ranking (KS), and you can't exclude top hands. "
anyways here is the hand and what sng wizards says...
|
|
|
|
|
|
|
|
|
|
|
|
|
v
and:
just so we see the differences in these 2 programs i use... i really thought this was a call too, but i can see folding this one... btw he pushed 92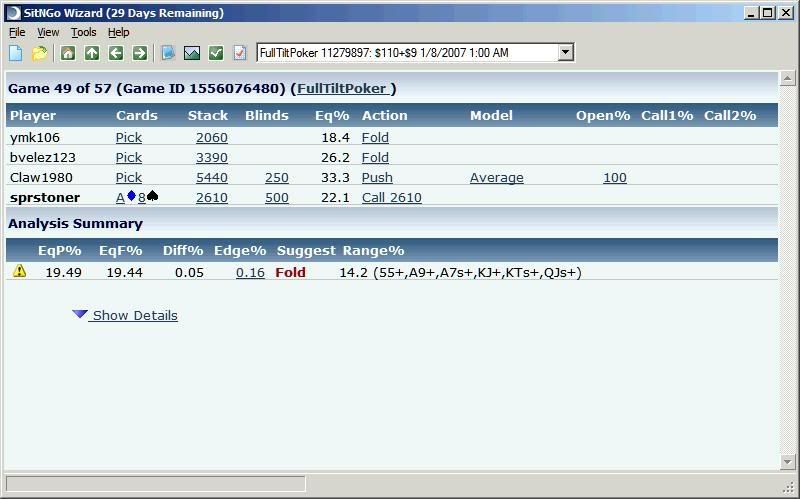 VS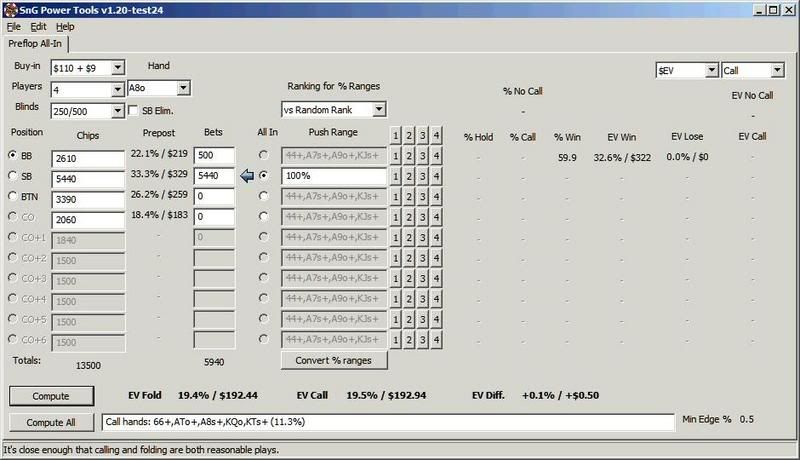 ---
that made me think... here is the 1st hand i posted entered into sngPTs... wonder why the difference? one must be right and one must be wrong... right? i enter exact same hand range... hmmmm... i better ask chipp....