over all today i made $439, but i got slaughtered in the 100's and killed the 200's. which the 200's caused me all my pain last week. cause i did good in the 500's last week and still lost a fortune.
lets go over some hands.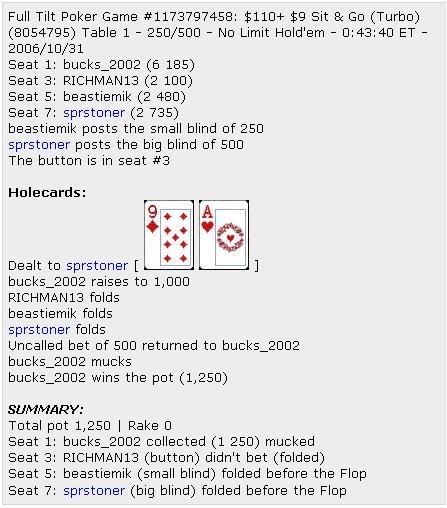 in this hand i kinda wanted to call, but couldnt make myself do it... actually not call but go all in... but if i went all in he has to call. so it is basically the same thing as him pushing and me calling. i entered that into sngPT and it told me
if he is pushing any 2
(which he was) i need 77+,AJo+,ATs+,KQs (8%)to call, so it was a good fold.
===
now here, i was thinking i had to push with any 2, and hoped he folded but i know he would have a huge calling range.... i entered this into sngPT giving him a calling range of :22+,A2s+,A3o+,KTs+,KJo+,QJs - im not sure this is loose enough, i do have over 4 BBs so, he is not calling any 2. any thoughts on his calling range here?
if this is a good range, my push was still wrong... results were:Push hands: 22+,A2+,K2+,Q2+,J2+,T3o+,T2s+,93o+,92s+,84o+,82s+,74o+,72s+,63o+,62s+,53o+,52s+,43o,42s+,32s (91%)
and if we loosen him up a little i have to tighten up.
====
i still made a few mistakes today.. but ill do better tomarrow...
and i hate KK
well... not much else to post..... besides if i dont have a good week, im quitting sngs. hehe